"Now here's the story from A to Z..."
– Spice Girls, Wannabe, 1996.
Sadly, they weren't talking about an events A to Z, as far as we know. But that's OK, as we've got that covered for you right here.
In alphabetical order, we present everything you need to know about venues, events and everything in between. (Well, everything that'll fit within the limitation of one word per alphabetical letter.)
A is for Away Days
Sometimes businesses need some time away from the confines of the old desk and chair. That's why we have the best away day venues for team-building events, whether it's cooking together or indoor golfing as a group. Take a breather at one of these venues, and return to work fresher and with teamwork as strong as steel.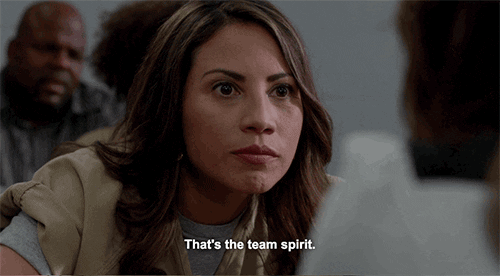 Team spirit can be found in prison, but we think you'll prefer our venues.
B is for Bowl Food
We've explored before how bowl food is the new plate food. To humbly quote ourselves, "There's something comforting and homely about eating from a round, deep dish...Remember as a child how you didn't like any of your foods touching? This is the exact the opposite. Let all your foods mix and mingle, while you do the same at your event." There, we self-plagiarised. Check out of our favourite caterers here, and get in touch for information on some more.
Via pinchofyum.com
C is for Canapés
Bowl food is all well and good for tagines, poke and other trendy bowl-shaped foods, but sometimes a good classic canapé is what's needed. Incidentally, do you know the difference between a canapé and an hors d'oeuvre? Whereas the latter is more general, a canapé traditionally has three layers: a bread (or cracker) base, the main element and a garnish on top. Did that little factoid amuse (-bouche) you?
Canapés in their proper three-layered form. Via Honestly Yum.
D is for DDR
We have a lot of acronyms in the events industry, and though we like to be as clear as possible, there are some you can't ignore. DDR is one of those, standing for Delegate Day Rate, of course. It's the way in which many of our venues like to work, and ends up being cost-effective for our customers, too. Acronym-wise, there's also RFP, meaning Request for Proposal. And LOL, meaning laugh out loud, though apparently that has transcended industries. People also have fun outside of events, it seems.
Enjoy MBVAOCS with some DDR packages. That's an acronym for "mind-blowing views and other cool stuff". (Venue: Altitude 360)
E is for Entertainment
What's a party without entertainment? Probably still a good party, to be fair. But entertainment of some kind is always a welcome addition, regardless of what the 'entertainment' portion of Come Dine With Me may suggest. We work with a host of outstanding suppliers who'll take care of every element of production you'll need, including stages, performers, sound systems, lighting, dance floors and the rest.
Performers organised by Sternberg Clarke, one of our entertainment suppliers.
F is for Fam Trips
Contrary to what everyone, without fail, thinks when they first join the industry, the "fam" does not stand for "family", but "familiarisation". Though this isn't as snuggly and warm as the "family" definition, it's still always great to be able to see some of our existing or soon-to-be venues, hear about their rates and packages, meet the friendly venue managers – and even sample some exceptional food and drink if we're lucky enough. In other words, get familiarised with them. (As a family.) That way, our Venue Experts can be even more helpful in outlining and recommending our venues to you.
*A typical fam trip. Sorry, atypical fam trip.
G is for Gallery Spaces
Showcasing your new creative masterpiece to the world? Got a new project or product to launch? We have a huge range of blank-canvas gallery spaces that are transformable to best display your work and its individuality. Similarly, if you're in the early stages of a business idea or have a brave new idea that you want to try out on the public, have a browse through our pop-up spaces.
White Space, one of our blank-canvas gallery spaces.
H is for Hire Space
That's us, by the way.
Memorable venues, all in one place. hirespace.com.
The spectacular German Gymnasium.
Keep your eyes peeled for the next instalment of our A to Z, to come next month...