Why work with us?
We're proud of our fantastic team here at Hire Space, and we're on the lookout for more passionate people to help us become even better at what we do. If you're up for a fast-paced challenge in the best industry in the world, we'd love to hear from you!

Flexible Working
Work from anywhere with home office spending allowance.

Team Culture
Regular virtual and in-person team socials and trips.

Mental Health Initiatives
Free independent wellbeing coaching, therapy sessions and more.

Learning & Development
Professional development plans and regular learning opportunities

EMI Options
Generous EMI share options scheme

Industry Events
Free nights out in London's most exciting venues

Passionate People
Work with a driven, supportive team every day.

Parental Leave
Generous maternity, paternity and adoption benefits.
Our mission
At Hire Space, we're on a mission to lift up event planners everywhere. We're constantly working to make every event the best it can be, from vetting every one of the 6000 venues on our platform, to developing virtual event tech to help event planners be seen as superstars by everyone they work with. Onwards and upwards!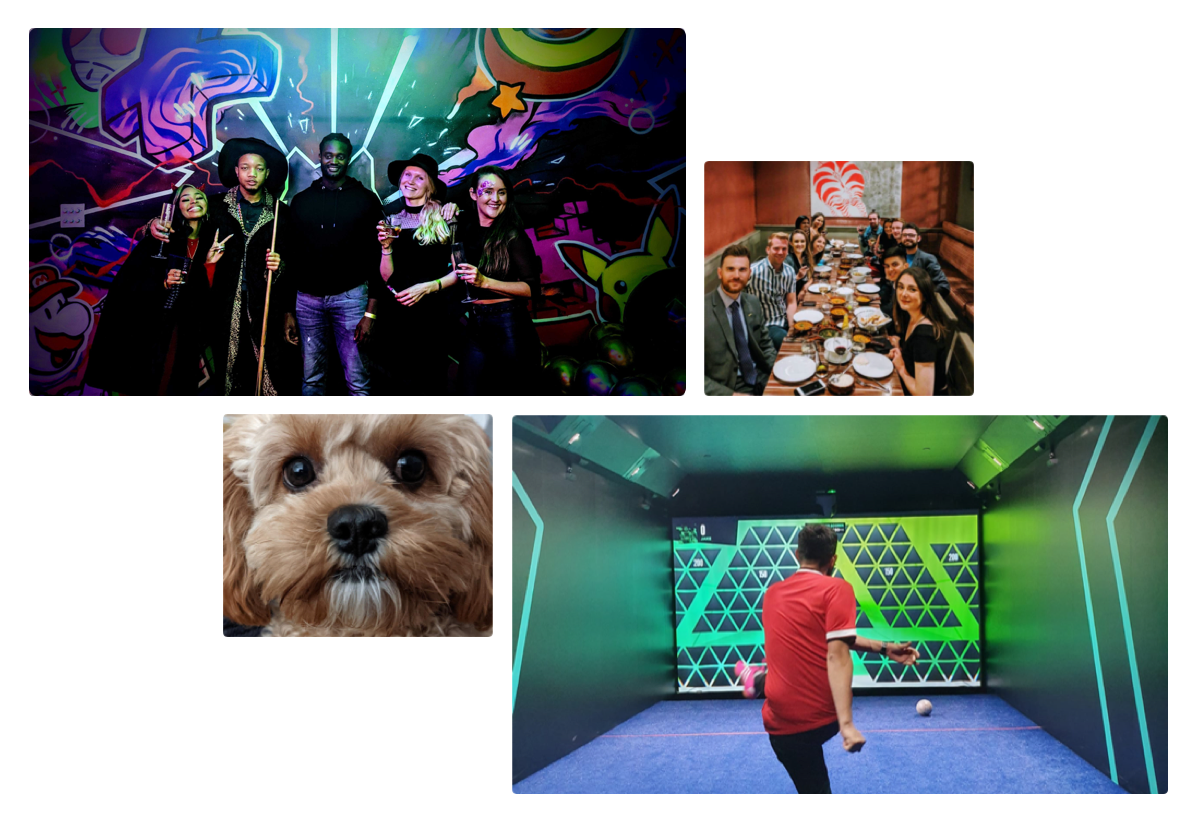 Always innovating
When the going gets tough, the tough get creative! Over the pandemic we developed a virtual events platform, launched a new event series, and came up with creative ways to stay ahead of the event curve!

Fostering a great culture
Our best asset is our team, and we know just how far a great team culture goes. That's why we organise weekly socials, go for team walks, and have quarterly trips away - when our team's happy, so are our clients!

Collaboration is key
We're a small team and it's important to us that everyone feels heard and has a say in where the company goes. We actively encourage everyone to make suggestions and contribute - after all, all the best ideas come from our team!
Current openings at Hire Space
Can't see your dream job?
Submit your CV to our database to make sure you're not missing out on future opportunities!
Working for Hire Space FAQs
You can hear directly from the team what it's like to work for Hire Space.
Who we look for
Keen to help
Always volunteer if someone needs something and you can help. Never leave anyone behind.
Action-oriented
It's normal to doubt yourself. But commit yourself, think for yourself, learn for yourself and don't be afraid to lead.
Continuously self-improving
Nobody can be great at everything, but if you see a door in front of you, knock it down. You'll feel amazing.
Our story
Back in 2012, our founders, Will and Ed, were working as a secondary school teacher in a cash-strapped school, and a political advisor campaigning to save recession-hit venues from closure. Feeling like there must be a way for businesses to generate additional income, they put their heads together and hit on the idea for Hire Space, a first-of-its-kind platform for venues to lease out their unused spaces.

Having raised £150,000, Hire Space launched in 2013 with a small roster of schools, churches, and community centres on its books. From there, we've grown exponentially, with over 6000 venues on our platform. We've matched tens of thousands of event planners with the best venues in the country (and beyond) and we're constantly evolving to do more.
Don't just take our word for it...

Incredibly welcoming, always supportive, and filled with fun, friendly colleagues. A real family.
Hire Space employee, 2021

The Hire Space team doesn't stand still, always evolving to suit the needs of the industry and thriving on collaboration.
Martin Fullard
Editor, Conference News

You don't feel sad on a Sunday evening, knowing that tomorrow is a Monday and that you need to go to work.
Hire Space employee, 2021

The feedback on the team from colleagues was amazing, I would recommend over and over again.
Olivia Bushell
FutureGov
Contact Us
Have a question for our team? Get in touch below!