Located just a stones throw from Shoreditch, the Flowerpot Hoxton is a new, wonderfully modern venue. A beautiful, airy loft, that is situated right on the canal in Hoxton, this flexible space is the perfect venue for any event.
Get creative, be inspired by the venue, its neutral interior, and leafy green touches, and host the event of your dreams.
The loft space has a huge skylight running through the middle - meaning that its interior is flooded with natural light, making a space where creativity will flow. The space is flexible in design and can be utilised in many different ways which means it is perfect for companies to use. Why not host your next company away day here? Or mix up the day in the office, and host your next day of meetings at this space? The venue has a kitchenette and space for catering equipment, so it's also perfect for team lunches, or breaks between meetings.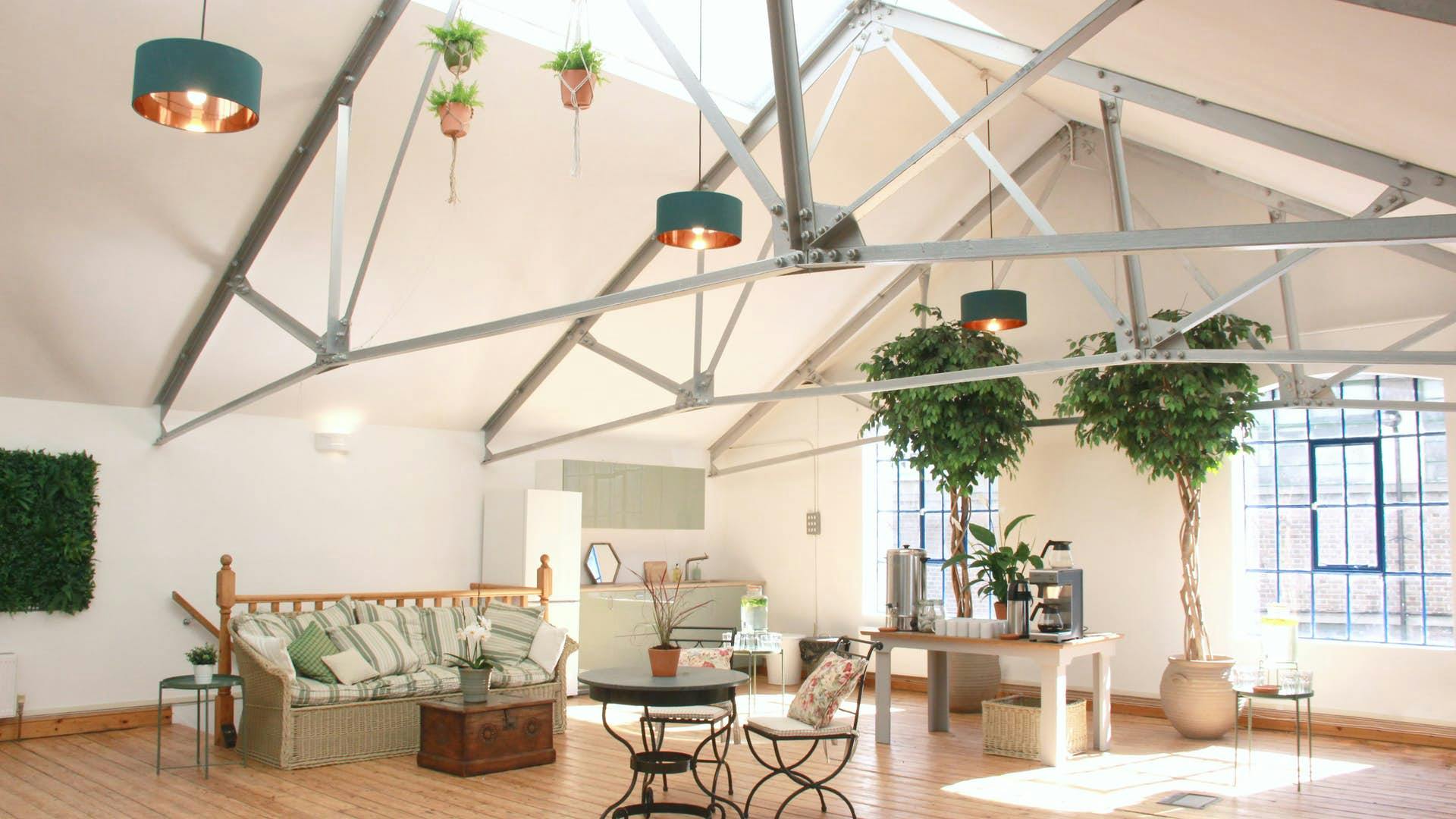 The venue is intimate, with space for only 150 standing. The flexibility of the space means that it can be a great venue for a number of different kinds of events - from business meetings, conferences, and work away-days, to photoshoots and video shoots, to birthday parties and personal celebrations. It has an alcohol license till 11pm, with the possibility of extension, so perfect for parties and anniversaries. For businesses, there are whiteboards, flip charts, and foldable chairs available - what more could you need to make your meeting stand out? The venue also provides a large screen and projector within all bookings, as well as AV support because life's too short for things not to work perfectly!
Enjoy an event to remember at the minimalist Flowerpot Hoxton. A combination of cool interiors, with beautiful greenery throughout, makes this venue a perfect space for a range of events. Versatile, spacious, and minimalist, the venue is a blank canvas for creative minds. This means you will be able to create the event you want, that is perfect for both you and your guests.
Organising an event? Enquire with our Venue Experts to make organising your event a joy.